Stone Mountain Highland Games is a nonprofit Georgia corporation. Proceeds from the annual festival events are used to benefit worthwhile Scottish related activities and organizations within the Atlanta region. Two of which are the Bobby Jones Scholars and the Robert T. Jones Jr. Fellowship at Emory University. Stone Mountain Highland Games has been proud to make contributions to the Bobby Jones Scholars Robert T. Jones Scholarship Exchange Program.
Bobby Jones' golfing accomplishments are known around the world, but his ties to Scotland and Atlanta are perhaps not so well known. This unique scholarship program establishes a link between Atlanta's Emory University, of which Mr. Jones was an alumnus, and the University of St. Andrew, located in the small coastal village of the same name. This quaint university town, a mecca for golfers everywhere, so admired Bobby Jones that he was made a freeman of the Burgh. The exchange program established in his name allows students from the University of St. Andrew to come to the United States for one year to study at Emory University, located in nearby Decatur, Georgia.
The Bobby Jones Scholarship, established in 1976 by friends and family of the late Robert T. Jones Jr., seeks students who exemplify the legacy of Bobby Jones through intellectual excellence, significant leadership, and exemplary character, integrity, and citizenship. Since its inception, more than two hundred students from the United States and Scotland have enjoyed the opportunities provided by this unique scholarship.
Inaugurated in 2008, the Robert T. Jones Jr. Fellowship annually provides full funding for one student from Emory and one from St Andrews to pursue a graduate degree at the other university. The fellowship honors Bobby Jones's history of academic achievement by selecting highly motivated individuals with records of intellectual excellence and a high potential for postgraduate success in their chosen academic field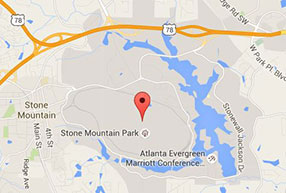 Directions to Stone Mountain Park
Stone Mountain Park
1000 Robert E. Lee Blvd
Stone Mountain, GA. 30083