Competitions
In the old times, the clans would gather for "Games". These would commonly be in the form of competitions between the clans. Today, we keep this important tradition alive by offering competition ... lot of it.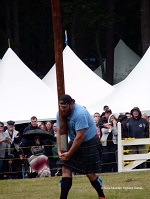 Arguably the most iconic of the competitive "Games", our Highland Athletes will take their field and spend two full days competing in many of the traditional highland athletic events. These include: The Hammer Throw, The Weight Throw and Weight Toss, The Stone of Strength (featuring our own little piece of Stone Mountain), The Sheaf Toss and of course the Caber Toss.
Competitions for Professional Masters, Professional, Amateur A, and Amateur B Divisions take place on Saturday. The Women's Division command the field on Sunday. Keeping with the traditions of competition between the Clans, there will be a special Clan Challenge event on Sunday as well.
Stone Mountain Highland Games hosts two full days of Highland Dance competition. Dancers of all ages from throughout the United States and Canada will take their turn on our special dance stages vying for those coveted prizes awarded for the best performance.
Both days will feature the traditional "Highland" dances as well as several Scottish National dances.
If you like to see the Pipe Bands, then Saturday is the day. Stone Mountain Highland Games features one of the largest fields of competitive bands in the Southeast. Owing to our strategic placement at the end of the competitive season for the Eastern United States Pipe Band Association, it is typical to see 30 pipe bands from around the country take over the main parade field for an all-afternoon competition.
Solo Piping and Drumming events will take place Saturday and Sunday mornings. This year there will even be a special Friday evening Professional Piping event at our Host Hotel.
The Scottish Harp Society of America, a non-profit organization dedicated to preserving the Scottish harp tradition in America and propelling it into the modern world, sanctions competitions as part of its outreach program. The Society supports competitions across the nation and provides world-class judges selected from among the best Scottish harpers in both America and Scotland.
The Stone Mountain Highland Games is pleased to announce the return of a Scottish Fiddling Competition to the Games. This year we will offer a Junior and Novice competition with plans to expand in the future. The competition will take place at the Fiddle Tent on Saturday, October 21. Registration begins at 9 am with judging beginning at 10 am