Atholl Highlanders Pipes and Drums (USA)
Stone Mountain Highland Games 2018 - Host Band
For more than 30 years, members of the Atholl Highlanders Pipes and Drums USA have brought the music of the Celtic nations to audiences in the United States and around the world.
The band first formed in 1981, and in 1983, the chief of Clan Murray, George Iain Murray, 10th Duke of Atholl, granted the band permission to wear the Murray of Atholl tartan, to bear the name "Atholl Highlanders," and to be his representative in North America. That honor continues today with the permission of His Grace Bruce Murray, 12th Duke of Atholl. We are one of only two bands in the world bearing the name Atholl Highlanders. We proudly display the shield of the Murray coat of arms on our sleeves.
Based in Stone Mountain, Georgia we perform for highland games, festivals, parades, kirkin' o' the tartan celebrations, steeplechases, corporate and other important events. We love to entertain our audiences! We are the host band annually for the Blairsville Highland Games, and hosted the 42nd Annual Stone Mountain Highland Games in 2014. We consider it an honor to play for departing and returning military units.
We were the first pipe band to appear at a Super Bowl game, performing the National Anthem with singer Faith Hill at Super Bowl XXXIV in Atlanta. The band has performed in Edinburgh, Scotland, at the Millenium Piping Festival in 2000 and the Pipe Fest 2005, and in the Tunes of Glory Parade on the Avenue of the Americas in NYC in 2002.
We also work to improve our capabilities through competition at EUSPBA-sanctioned events. The band is under the musical direction of Pipe Major Lisa Wight, Drum Sergeant Denise Duncan, and marching direction of Senior Drum Major Don Bogue.
In an effort to teach the public about Celtic culture and music, we offer free group bagpipe and drumming lessons for anyone interested in learning. Students at all levels are always welcome.
Contact Wayne Coleman, Business Manager, P.O. Box 1508, Stone Mountain, GA 30086, AHPDbiz@gmail.com, (770) 498-9524.>
You may visit the Atholl Highlanders Pipes and Drums USA web site at:
www.usahpd.com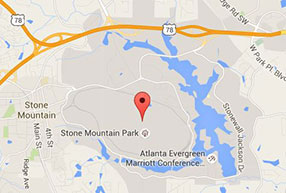 Directions to Stone Mountain Park
Stone Mountain Park
1000 Robert E. Lee Blvd
Stone Mountain, GA. 30083