Scottish Fiddling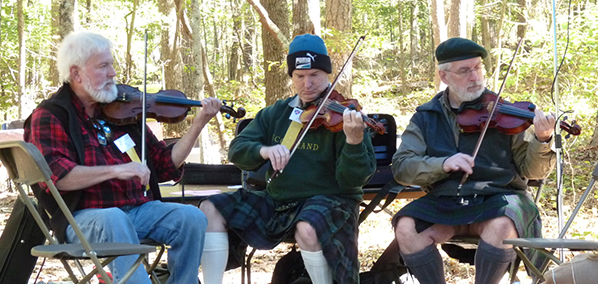 Stone Mountain Highland Games is proud to host a Scottish Fiddling tent and to welcome Jane MacMorran and Katherine Irwin Thomas during the festival. Jane and Katherine performs as an entertainers on our Performance Stage 3 and as a workshop instructors at the Fiddling Tent.
Scottish Fiddling Competition
The Stone Mountain Highland Games is pleased to announce the return of a Scottish Fiddling Competition to the Games. This year we will offer a Junior and Novice competition with plans to expand in the future. The competition will take place at the Fiddle Tent on Saturday. Registration begins at 9 am with judging beginning at 10 am.
Scottish Fiddle Competition forms are available for download. All entries must be postmarked by Sept 29, 2018 to avoid a late fee. Be sure and check back here for information and future announcements.
For more information, contact us at fiddling@smhg.org
-->
Jane MacMorran directs the Appalachian, Scottish, and Irish Studies Program in the Department of Appalachian Studies at East Tennessee State University in Johnson City, TN. She teaches Scottish/Irish studies courses and leads the summer study abroad course in Scotland and Ireland. Jane also teaches music theory, individual instruction in Scottish fiddling, and directs Celtic band classes in the world-renown Bluegrass, Old time, Celtic, and Country Music studies program.

An accomplished player of many musical styles, Jane is a popular teacher at workshops across the United States, including the Swannanoa Gathering and the Jink & Diddle School of Scottish Fiddling. She is a former United States National Scottish Fiddling Champion and has performed extensively in the U.S. and Scotland. She holds a B.M. in Violin Performance, a Master of Arts in Liberal Studies, and is in the final stages of her PhD candidacy at the University of the Highlands and Islands/University of Aberdeen in Scotland. In the classical world, Jane studied Suzuki pedagogy with Shinichi Suzuki in Japan and served as concertmaster of Symphony of the Mountains for two decades, where she was frequently featured as soloist.
Katherine Irwin Thomas is a fiddler and string educator in Atlanta, Georgia USA. A junior U.S. Scottish Fiddle Champion and fiddle student of Bert Murray of Aberdeen, Scotland, Katherine began pursuing an interest in Irish fiddle in 1999 and has since become the director of The Atlanta Irish Music School. When she's not fiddling or tending her young daughters, she is a school orchestra teacher and an advocate for world strings
The workshops cover some of the essentials of Scottish fiddling, including bowing, phrasing, accent, and ornamentation. All tunes are taught by ear (sheet music will also be available). Participants may bring a small tape recorder. All ages are welcome. The tent is located the upper end of Clan row near Performance Stage 2 and the Country Dance platform.
Fiddle Event Schedule will be annouced closer to the games. Please check back later for event times and location.
For more information, contact us at fiddling@smhg.org