Highland Dance Competition
Stone Mountain Highland Games is pleased to host two Highland Dancing competitions during the festival.
Both days will feature the traditional "Highland" dances as well as several Scottish National dances. Some of the best dancers from around the country will compete for medals, trophies, and prizes.
Scottish Highland Dancing is a celebration of the Scottish spirit. The dances are a spectacular combination of strength, agility, movement, music, and costume. Unlike other dance mediums, Highland dances are generally danced solo and in competition. Dancers typically dance to traditional Scottish music such as Strathspeys, Reels, Hornpipes and Jigs, all played by an accompanying bagpiper. The dances are made up of different parts, called steps and there are usually four or six steps to a dance.
Highland dancing was traditionally performed by men but is now performed by men and women. It is one of few arenas where men and women compete equally. In most competitions, the number of women competing far exceeds the number of men.
In addition to perpetuating a great cultural tradition, highland dancers appreciate the athletic challenges, competitive goals, performance opportunities as well as the opportunity to meet and become lifelong friends with dancers from other areas, both nationally and internationally, that participation in this ethnic art form/sport affords them.
Be sure and stop by the Highland Dance Pavilion.
For more information, contact our Highland Dance Committee
Check back on this page for competition announcements and additional information.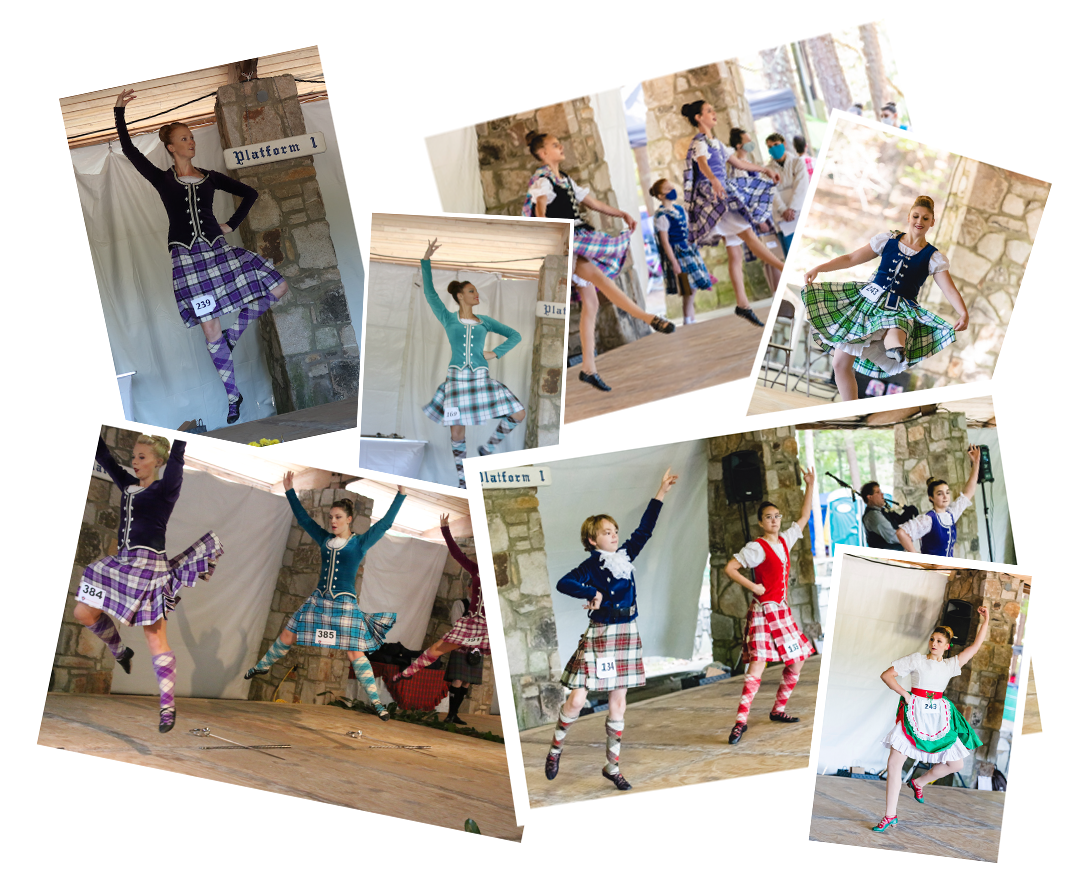 Highland Dances:
Fling
Likely the oldest of the traditional dances of Scotland, the Fling signifies victory following a battle.
Sword Dance
Legend says that warriors danced the Sword Dance prior to a battle. If the warrior touched the swords, it was considered an omen of injury or death.
Seann Triubhas
The Seann Triubhas originated as a political protest dating to 1745 when wearing the kilt was an act of treason. The graceful steps reflect the restrictions of trousers, and the lively quick time recreates the Highlander's celebration of rediscovered freedom.
Reels
Reels are said to have started in a churchyard on a cold morning when the minister was late for the service. Parishioners kept warm by dancing a reel.
National Dances
The National Dances are more modern than the Highland Dances and were developed so women could participate. The costume worn by women is called the Aboyne dress named in honor of the Aboyne Highland Games in Scotland where women were forbidden to wear the traditional Highland outfit. The National Dances are much more rhythmic and balletic; however, they still require quick and precise movements. Some of the dances are the Scottish Lilt, Village Maid, Blue Bonnets and Scotch Measure. Several National Dances are performed in the kilt since they were originally men's dances such as The Highland Laddie, and Wilt Thou Go to the Barracks, Johnny? Men, of course, also perform all of the dances, but they wear the traditional Highland outfit.
Our 2022 Corporate Sponsors