Event Highlights
Click image for more information about the North Georgia Pipes & Drums
Stone Mountain Highland Games welcomes the North Georgia Pipes & Drums as our 2019 Host Band. A group of seasoned musicians joined forces in 2007 to bring something different to the local piping scene. Their vision was - and remains - to bring together a solid corps of accomplished pipers and drummers who love to play, who are ready to excel in competition, and who welcome and nurture developing players. We have enjoyed several years of competitive success, including a 2nd place overall finish in the entire EUSPBA (Eastern United States Pipe Band Association) Grade V.
Part of what makes Stone Mountain Highland Games special, are the trophies. Winning a trophy shows the achievement of the competitor's hard work and dedication to their heritage. In addition, it serves as a reminder of that special win that they have for a lifetime. Thank you to everyone listed on our trophy page who sponsored a trophy for this year's Games! Visit our trophy page to see sponsorship opportunities that are still available.
For more information, contact us at Trophies
The Georgia Tartan was first designed and woven in 1982 in honor of Georgia's Semiquincentenary Celebration which coincided with the 10th Annual Stone Mountain Highland Games. "The Georgia tartan is so special because this state's very history is woven into the fabric. It is a tartan any Georgia Scot and any proud Georgian can wear with pride."
A Proclamation from the Governor of the State of Georgia, Nathan Deal.
Stone Mountain Highland Games is a nonprofit Georgia corporation. All proceeds from the annual festival events are used to benefit worthwhile Scottish related activities and organizations. Stone Mountain Highland Games is proud support two scholarships at the John C. Campbell Folk School.



Stone Mountain is very happy to host its own chapel with Father David Monroe serving as Games Chaplain. Plan to visit this unique Kirk in the Woods. Follow the link for more details.
For more information, contact us at Chaplian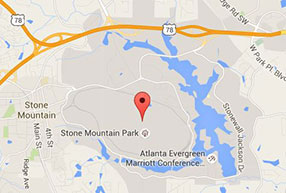 Directions to Stone Mountain Park
Stone Mountain Park
1000 Robert E. Lee Blvd
Stone Mountain, GA. 30083