SMHG 2019 Host Band
North Georgia Pipes & Drums

Stone Mountain Highland Games 2019 - Host Band
A group of seasoned musicians joined forces in 2007 to bring something different to the local piping scene. Their vision was - and remains - to bring together a solid corps of accomplished pipers and drummers who love to play, who are ready to excel in competition, and who welcome and nurture developing players. We have enjoyed several years of competitive success, including a 2nd place overall finish in the entire EUSPBA (Eastern United States Pipe Band Association) Grade V.
Originally formed as North Atlanta P&D, the band changed its name to North Georgia Pipes & Drums in 2016. Our members and prospects hail from all corners of the North Georgia region, and our new name reflects an expanded focus on our service area. The band is currently under the direction of Pipe Major Tom Crawford, Pipe Sergeant David Gregory and Drum Sergeant JJ Hayden. We rehearse each Tuesday evening at Johns Creek Presbyterian Church, and welcome visitors and musicians interested in joining.
North Georgia P&D is dedicated to perfecting our musical skills, promoting Scottish Pipe Band music, and advancing our heritage. The band supports itself and furthers its activities with performances at parades, concerts, church services and kirkings, graduations, weddings, corporate events and more.
The NoGaPD philosophy is simple – Good Music, Good Will, Good Fun. By all accounts our success continues.
If you are interested in joining or hiring us, please visit us at : www.NoGaPD.com or www.NorthGeorgiaPipesandDrums.com
---
The Atlanta Pipe Band

Stone Mountain Highland Games 2020 - Host Band
The Atlanta Pipe Band continues to further the great tradition of Scottish music and culture through performance and education. Under the leadership of Pipe Major John Recknagel, the band is both a major force on the competitive circuit and a sought-after performer for civic, private and commercial events.
The Band's long winning history includes such titles as U.S. Open Pipe Band Champion (Grade 3), Eastern U.S. Pipe Band Champion (Grade 3 and 4), Southeast Pipe Band Champion (Grade 3 and 4), Southern Pipe Band Champion (Grade 3) and Midwest Pipe Band Champion (Grade 3).
The Band is frequently invited to add its unique flair to a wide range of high-profile events. The band performed with The Celtic Women at Atlanta's FOX Theater in December 2011, opening the Celtic Women's U.S. Tour, and is featured on their tour DVD. The Band has also performed for such dignitaries as Presidents Carter and Bush, Prince Charles, Mikhail Gorbachev, and the Dalai Lama. performed opening ceremonies at the prestigious Walker and Curtis Cup Golf Tournaments. The Band has performed at the football half time shows for Georgia Tech, the University of Alabama, Jacksonville State University and the University of Tennessee. The Band has also been featured in the motion picture, "Into the Wild."
Having both grade 3 and grade 4 units, interested individuals should contact the band via the join us page for membership information.
If you would like to contact the band, send an email to:
Mike Osborne:
president@atlantapipeband.com
You may visit the Atlanta Pipe Band web site at:
atlantapipeband.com
---
John Mohr MacKintosh Pipes & Drums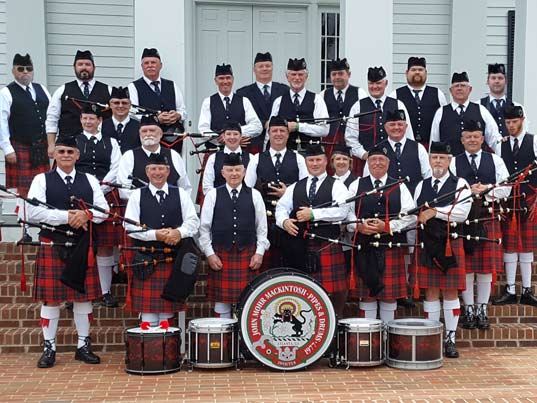 Stone Mountain Highland Games 2017 - Host Band
John Mohr MacKintosh Pipes & Drums (JMMPD) is a performance and Grade V competition pipe band, with a Grade IV pipe band currently under development. The band has performed throughout the Southeastern United States for well over a third of a century since it was founded in 1977.
Those familiar with this dynamic group know of their reputation for remarkable showmanship, competitive spirit, and dedication to performing the timeless music of the pipes and drums. JMMPD's numerous performance credits include spots on radio and television, parades, ceremonies, and special events for cities, associations, and private interests. For sixteen years, JMMPD was a featured participant in the Stone Mountain Military Tattoo and has performed as host band for the Stone Mountain Highland Games in Stone Mountain, Georgia for fifteen years.
Wearing the brilliant red MacKintosh tartan, JMMPD proudly bears the name of eighteenth-century adventurer Captain John Mohr MacKintosh, whose exploits are recorded in the chronicles of early-American colonial history. The band is proud to be a member of the Eastern United States Pipe Band Association, and of its close affiliations with Clan MacKintosh, the Stone Mountain Highland Games, and the Creek Indian Nation. The band is currently under the musical direction of Pipe Major M.L. Loudermilk.
The band welcomes both beginning and advanced pipers and drummers of all levels, and meets weekly for instruction and rehearsal in the Atlanta, GA area.
You may visit the John Mohr MacKintosh Pipes & Drums web site at:
www.jmmpd.com
---
Atholl Highlanders Pipes and Drums (USA)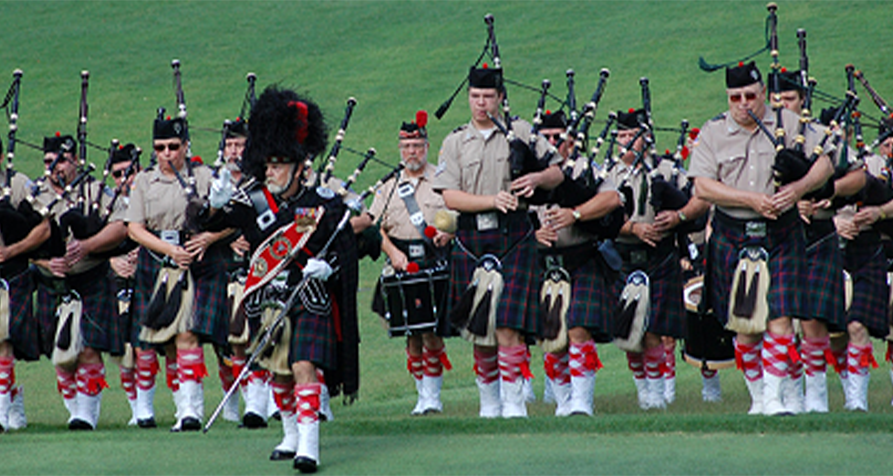 Stone Mountain Highland Games 2018 - Host Band
Founded more than 30 years ago, members of the Atholl Highlanders Pipes and Drums, USA have brought the music of the Celtic nations to audiences in the United States and around the world.
In 1983, the chief of Clan Murray, George Iain Murray, 10th Duke of Atholl, granted the band permission to wear the Murray of Atholl tartan, to bear the name "Atholl Highlanders," and to be his representative in North America. That honor continues today with the permission of His Grace Bruce Murray, 12th Duke of Atholl. They are one of only two bands in the world bearing the name Atholl Highlanders. They proudly display the shield of the Murray coat of arms on their sleeves..
Based in Stone Mountain, Georgia they perform for highland games, festivals, parades, kirkin' o' the tartan celebrations, steeplechases, corporate and other important events. The band loves to entertain their audiences! They consider it an honor to play for departing and returning military units. They were the first pipe band to appear at a Super Bowl game, performing the National Anthem with singer Faith Hill at Super Bowl XXXIV in Atlanta. The band has performed in Edinburgh, Scotland, at the Millennium Piping Festival in 2000 and the Pipe Fest 2005, and in the Tunes of Glory Parade on the Avenue of the Americas in NYC in 2002.
The band is under the musical direction of Pipe Major Lisa Wight, Drum Sergeant Denise Duncan, and marching direction of Senior Drum Major Don Bogue. In an effort to teach the public about Celtic culture and music, they offer free group bagpipe and drumming lessons for anyone interested in learning. Students at all levels are always welcome.
Contact Wayne Coleman, Business Manager, P.O. Box 1508, Stone Mountain, GA 30086, AHPDbiz@gmail.com, (770) 498-9524.
You may visit the Atholl Highlanders Pipes and Drums USA web site at:
www.usahpd.com
Our 2019 Corporate Sponsors