Scottish Harp Competition
The Scottish Harp Tent hosts the Scottish Harp Society of America sanctioned Scottish Harp Competition on Saturday at 10:00. There are five solo categories: Beginner, Novice, Apprentice, Journeyman and Master. There are also five non-traditional categories: Harp and Voice, Harp and Spoken Word, Ensemble, Early Music and Emerging Forms. This year we are honored to have distinguished judge Sue Richards adjudicating the competition and presenting a workshop on Sunday.
Sue Richards is a traditional Celtic harper, living in Asheville, NC. As a child she studied classical harp at Oberlin College and Ohio State University; then she turned to the Irish and Scottish music of her heritage and never looked back. She won the American National Scottish Harp Championship four times and is a distinguished judge for the Scottish Harp Society of America (SHSA). she has played for Presidents Clinton and Bush, Queen Elizabeth of England, and sat in with the Chieftains Irish band. She currently teaches and directs the harp program at the Ohio Scottish Arts School at Oberlin and tours with the "Harpa" group in Scotland and Norway. She has many recordings and books of arrangements and original tunes to her credit. Sue also plays and tours with Ensemble Galilei, a group of five musicians performing multi-media concerts commissioned by the National Geographic Society and the Metropolital Museum of Art. "
In addition to the competition, the Scottish Harp Tent features a harp circle on Sunday at 11:00, a harp workshop presented by distinguished judge Sue Richards at 2:00 on Sunday, and both continuous harp music and Harp Tasting throughout Saturday and Sunday.
Harp Tasting is an opportunity for anyone to "test drive" a harp. There will be a variety of harps to choose from and plenty of harpers on hand to show you how to play.
The Scottish Harp Tent is run by volunteers from the Atlanta Folk Harpers, a group dedicated to promoting the folk harp. They are eager to answer any questions you might have about the harp, and to introduce you to the joys of harp playing.
For more information, contact us at harping@smhg.org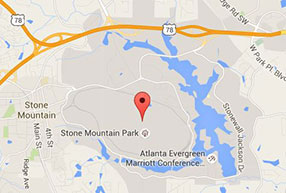 Directions to Stone Mountain Park
Stone Mountain Park
1000 Robert E. Lee Blvd
Stone Mountain, GA. 30083