The Rev. David Monroe enters his 11th (or is it 12?) year as Chaplain to the Stone Mountain Highland Games.
Pastor of Holy Trinity Parish (HTP) in Herndon VA, Fr. David claims he's retired, but his schedule doesn't seem to support that claim: in addition to being Pastor at HTP, he serves on the Liturgy Committee of the Catholic Apostolic Church in North America (CACINA) as well as just being named Director of CACINA's St. Charles Seminary program. He also teaches Environmental Science to Elementary School students in Prince William County (VA) in Science in the Park.
He served as a parish priest for 17 years in Marietta GA, as a supply priest in Chattanooga TN for almost four years, and as Associate Pastor of St. Andrew the Apostle church in Casanova VA. He has worked as a Manager of Information Technology in both the public and private sectors; a substitute teacher in Cobb County GA and as an enrichment instructor in an After School Program teaching, coaching and mentoring in the areas of STEM, FIRST LEGO League robotics and Elementary Science Olympiad.
When talking of his varied background, Fr. David says there are several events that stand out:

- The birth of his children and grandchildren (8 grandchildren)
- Having a $25, 000 bounty issued against him while in Africa (ask him and he'll tell you the story).
- The death of his wife of 37 years.
- Entering a Second Great Adventure: moving to Virginia (he's a native Atlantan) and finding that being in his 60s is just a number. He was remarried in April, 2015. His wife, Pat, is a Medical Device Regulation and Quality consultant.
Fr. David and Pat live in Warrenton VA (an hour west of Washington, D.C.) with their bloodhound, CJ, and their two domestic shorthair cats, Winston and Churchill. In his "down" time, Fr. David likes to read, cook, garden, and raise honeybees.
Stone Mountain Highland Games is very proud to have Father David with us.
The Chapel Stained Glass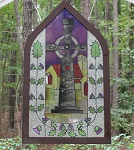 The Stone Mountain Highland Games has a truly unique chapel space thanks in part to some special stained glass panels which adorn it. These three panels were created especially for the Stone Mountain Highland Games chapel by Jennie McCook Johnson, the daughter of a former chaplain Rev. Dr. Frank McCook. They have been lovingly cared for by our grounds staff since 1990.
According to the artist there is a significance to each of the panels, as one might expect. The Flames and Cross are representative of our heritage and our faith. The Celtic Cross with a kirk in the background represents or Scottish heritage and Christian foundations. Finally the Scottish hillside complete with babbling brook, sheep and the stone bridge, bring memories of home. Mrs. Johnson said that she created this final panel in memory of her mother who "loved the black-faced sheep and Scottish countryside".
These unique pieces of art have set our wee Kirk in the woods apart from others for more than 20 years.
For more information, contact us at Chaplain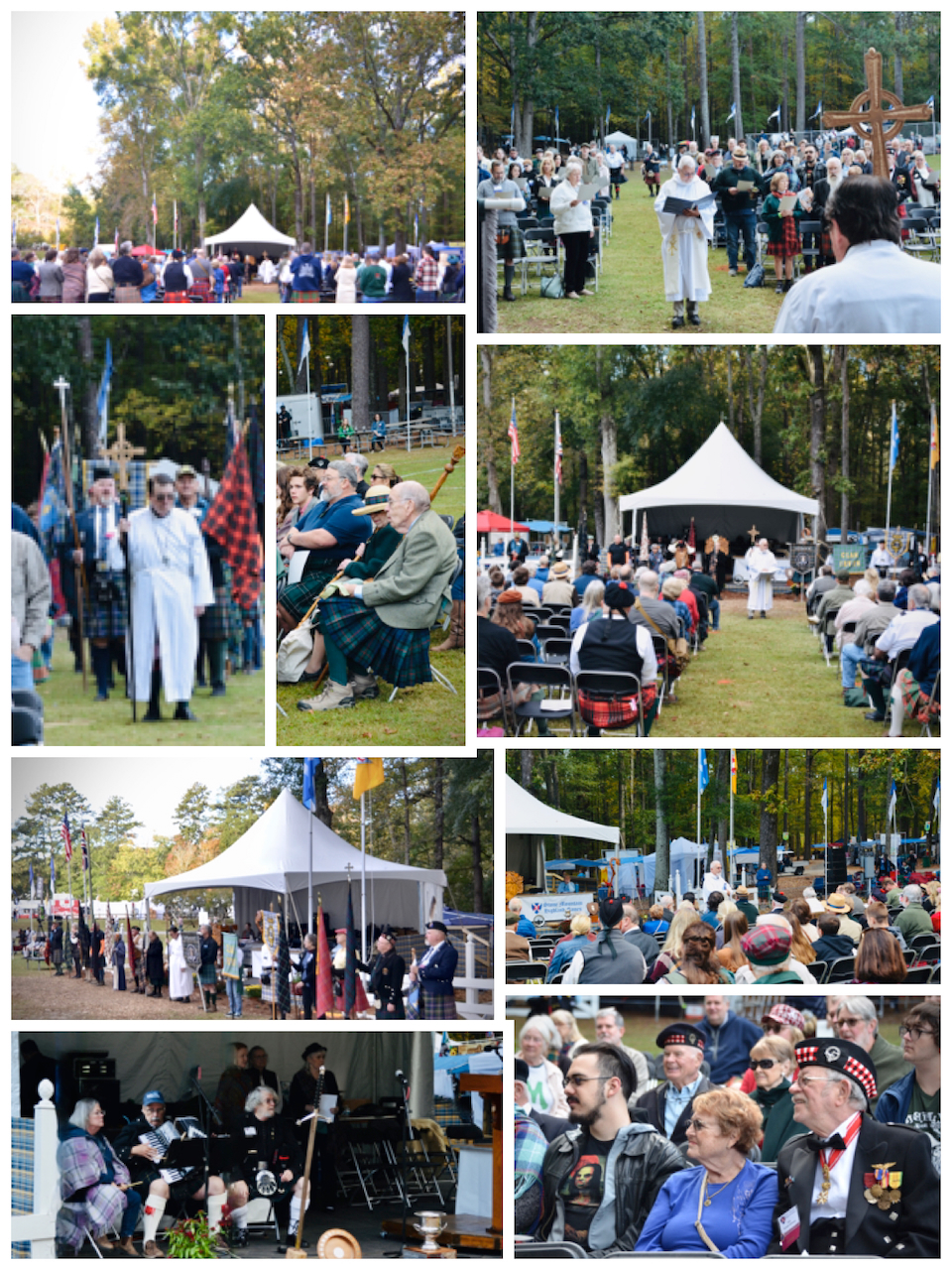 Our 2023 Corporate Sponsors